Welcome!
You can change the calendar view to LIST, MONTH, WEEK or DAY – see left, top side of calendar. HOVER over or CLICK on event to read more about it.
SLOW FLOW & YIN YOGA with Anna
Slow Flow and Yin Yoga with Anna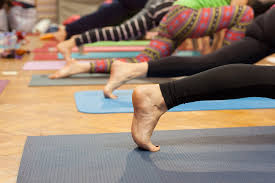 It is ideal for all experience levels. Weekly on Mondays 8:30 AM to 9:45 AM
Slow Flow plus Yin begins with a gentle warm up to loosen the body before coming in to deep Yin poses.
Yin poses target the connective tissue and ligaments in the body located deeper than the muscles. This
requires us to sit in a pose passively for longer holds. Perfect for creating a meditative space.
Suggested Donations $5 - $10