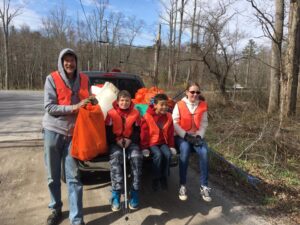 Spring Mountain Community Center will hold a roadside litter cleanup/scavenger hunt along Old Fort Road on Saturday, March 25th from 10 am until noon.
Rain date will be one week later, Saturday, April 1st, from 10 am until noon.  Snacks and drinks will be provided.
To encourage participation, special "trash" will be hidden in secret spots along the road. Anyone finding a special item and also turning in at least one orange bag of litter will win a prize, thanks to local sponsor Daylight Asheville.
Volunteers will be briefed as to what the treasures might look like when they check in to get their safety vests, gloves, and trash bags.  Meet at the Spring Mountain Community Center, 807 Old Fort Road, to begin your quest.
Children must be accompanied by an adult and should be old enough to safely move along the roadside.
For those who would like to help clean up our community but cannot come on Saturday, call Ruth at 628-1625 to arrange for safety vests, gloves, and bags.  You may do your litter pick-up at another time convenient to you, but the scavenger hunt items will only be available on Saturday.  Your prize will be knowing that you did a good deed!