Spring Mountain Community center is a place for "all-community" celebrations at various occasions and traditions; such as our annual community picnic.  The center is a place where community members meet each other socially.
We offer an opportunity to volunteer your special talents or even an opportunity to gain knowledge about your hidden talents.
The community members (and sometimes others), can rent the center when a private family function or party is too big for their own home. For instance weddings, family picnics, family reunions, business group meetings, etc.
It is also a place where regular activities take place like fitness classes, music, gardening classes and more. We have an event calendar to keep you informed.
Spring Mountain Community Center is funded by donations and we always need a little extra money here and there to maintain and upgrade. Your help would be appreciated. Donate as much and as often as you like.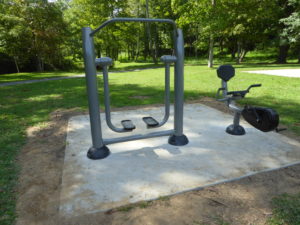 Spring Mountain Community Center received a grant for the purchase of adult outdoor exercise equipment. We have purchased a Cardio Walker & Recumbent Cycle. The equipment will provide aerobic fitness and cardio benefits.
The Cardio Walker is an ideal solution for anyone seeking a low-impact aerobic workout. Place your feet on the large slip-resistant platforms, grip the handlebar and move your legs forward and backward. The Cardio Walker provides an effective workout for people of all fitness levels.
While an upright bike has you hunched over the handlebars, a Recumbent Bike encourages better spinal posture. Recumbent Bikes are gentle on all your joints. Your lower back is supported and your knees and ankles are protected from potential injurious impact.
MISSION STATEMENT
To encourage and promote a harmonious relationship among the people of the community.
To develop the community and social life of the people of Spring Mountain Community through a unified program of community activities and through the strengthening of youth programs and churches, schools and other desirable organizations.
To improve the health and living conditions, improve the homes and surroundings, foster community pride and in general make our community a better place in which to live.
Click on a photo to enlarge and begin your slide show.
Most of the photos above were taken by
"our community neighbor", April Tarjick
April Tarjick Photography
Public WiFi
Available Now
LOCATION
807 Old Fort Road
Fairview, NC 28730
Mailing Address:
P.O. Box 73
Fairview, NC 28730
TO RENT SMCC
Call Cindy Bailey 828 -231-9884 or email at [email protected]