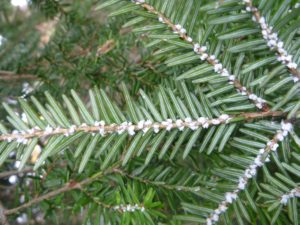 Great news for those with hemlock trees on their property!  Spring Mountain Community Center will host a combination field demonstration and classroom presentation on how to protect your hemlocks from the invasive hemlock woolly adelgid, a widespread insect pest that feeds on the tree's sap and can kill the tree in as little as four years.  In the past, chemical treatment has been expensive and usually done by professionals, but new methods are now available that can be done by landowners themselves very inexpensively.
The free program on Saturday, April 6, will be presented by Hemlock Restoration Initiative, which is sponsored by the NC Dept. of Agriculture & Consumer Services and the US Forest Service and managed by WNC Communities, an organization focused on supporting community development and agriculture initiatives across Western North Carolina.  
The presentation will be divided into an outdoor field demonstration and an indoor talk.  Attendance for both portions is strongly encouraged.
Outdoor: For the outdoor part, meet at Spring Mountain Community Center, 807 Old Fort Road in Fairview, at 1 pm on Saturday, April 6.  We will carpool to a nearby hemlock grove where HRI staff will demonstrate various methods of hemlock protection and how they can be safely done by landowners.  We may be at a fairly high elevation, so be sure to dress for the weather. You may also like to bring water and a lightweight folding chair. This portion of the program will last from 1:30 pm until about 4:30.  In case of inclement weather, the outdoor portion only will be postponed to Saturday, April 20, at 1 pm, also beginning at the Spring Mountain Community Center.  If you would like a phone call in the case of postponement of the outdoor demonstration, please leave your name and number with Ruth at 628-1625.
After the field demonstration, we will return to the community center for a light supper (pizza and salad) and the classroom presentation.  There is no charge (although donations would be appreciated) for the meal, but you must pre-register by calling Ruth Atkins at 628-1625 by Thursday, April 4.  Leave your name, phone number, and the number of people who will be dining. Those who do not pre-register cannot be served.
Indoor: For those only wishing to attend the indoor lecture, please plan to arrive at the community center (807 Old Fort Road, Fairview) about 5 pm.  The 1 ½ hour program will cover the background and context for the field portion and will include how to identify hemlock trees, why they are important, how to assess the level of infestation of hemlock woolly adelgid, and how to choose and safely apply treatment.
For more information, call Ruth Atkins at 628-1625 or go to www.savehemlocksnc.org.